Parenting for SexSmart Children
Giving your children sex education is an important part of parenting.
If you're reading this page, you are committed to giving your children the tools they need to grow into happy and healthy adults, sexually and otherwise. There are several different ways to do a good job on your child's sex education. Many people think of sex education as parents having "the talk"—sex talk — with their children. If you have read SexSmart, you know that I think that the most important thing you can do to help your child's sexual development is to be a good parent, to follow the Milestones of Sexual Development (please see illustration below).
Our sexuality is formed by the subtle and not so subtle lessons we learned in our family of origin. Consistent, good experiences with loving touch, eye contact, trust, empathy, positively constructed body image, self esteem and power are necessary building blocks. These "Milestone" experiences link feelings of being loved and feeling good enough with other developmentally crucial abilities and associations. For instance: (1) embodied feelings of pleasure, including (appropriate) familiarity with the sights, touches, tastes and smells of bodily intimacy; (2) the ability to tolerate feelings, one's own and others'(3) emotional closeness to another person; (4) relaxation, trust, safety, and energy flow; (5) the expression of feelings; and (6) ultimately, the free expression of sexuality. (Zoldbrod, 2003).
Without the associations, letting go and turning one's body over to sexual experience with a beloved other creates dissociation or anxiety, not arousal.
Ironically, what you say about sexuality to your children has a lot less to do with how they ultimately feel about their sexuality than how you act towards them, and what you model, in their family. In fact, research by Julia Heiman and others (1986) has shown that experiencing "negative familial and cultural attitudes toward sex" does not, by itself, create adults who have problematic sexual functioning.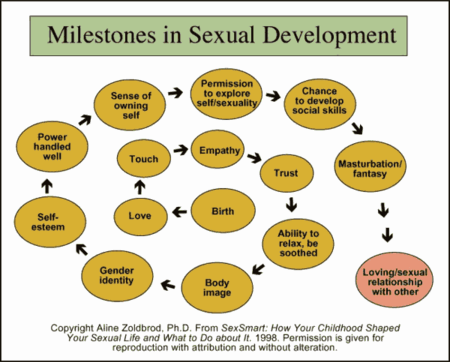 For a description of the different Milestones, Click Here.
If you grew up in a family in which each of the Milestones of Sexual Development unfolded in a very positive way, and you and your partner have a healthy, respectful and loving relationship, the chances that you will be able to create a similar family life for your children will be good. A focus on getting more comfortable talking about sexuality with your children would be a reasonable thing to do.
If you are someone who grew up yourself in a family that was abusive, neglectful, alcoholic or drug abusing, providing your children with a consistently loving and empathic home life means that you have to be willing and able to confront, daily, what you, yourself did not get as a child. I have plenty of clients who amaze me. They are committed to giving their children a childhood that is immeasurably better than the one they had. And it is a complicated process. It can be both painful and pleasurable to give so much to your children when you got so little. On one hand, you identify with your children and take pleasure in their joy in being alive, in their trust in you, and in their self esteem. At the same time, it is painful to watch them thrive and to experience so vividly the loss you, yourself, suffered by not having these good experiences with love, touch, pleasure, trust, intimacy, power, self-esteem, or friendships. Sometimes the most important thing you can do to create healthy sexuality in your children might be to get some support or psychotherapy for yourself. I have often found that groups for adult children of alcoholics (ACOAs) are amazingly supportive, even if your parent(s) were not alcoholic. And these groups are free.
One excellent train of thought about sex education is to do it throughout your child's life, focusing on "teachable moments."If you aren't comfortable talking about sex, there are many wonderful resources to help you.
Memories of Kind Parental Touch Lead to A Lifetime Of Pleasure by Aline Zoldbrod Ph.D.
A Few Books
Gordon, S. and Gordon, J. (1989). Raising a child conservatively in a sexually permissive world. New York: Simon & Schuster.
Harris, R. and Emberly, M. (1999) It's so amazing! A book about eggs, sperm, birth, babies, and families. Cambridge: Candlewick.
Leight, L.(1988) Raising sexually healthy children. New York: Avon Books.
Mayle, P. (1999) Where did I come from? Seacaucus, NJ: Carol Publishing Group.
Moglia, R. (1997). All about sex: A family resource on sex and sexuality. New York: Crown Publishing
Richardson, J and Schuster, M. (2004), Everything you never wanted your kids to know about sex (but were afraid they'd ask); The secrets to surviving your child's sxual development from birth to the teens. Three Rivers Press.
Zoldbrod, A. SexSmart: How your childhood shaped your sexual life and what to do about it. New Harbinger 1998. Now out from iUniverse.
A Few Websites
For parents: www.siecus.org
For teens: www.goaskalice.com
For teens: www.teenwire.com